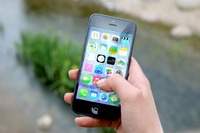 Six times more mobile devices than PCs (Bildquelle: JESHOOTS)
Now there"s a more secure domain for apps. From games to news to education to business, the App-Domain is the perfect home to promote apps on the web. The .app domain is a great place to showcase a unique and trustworthy destination, so users know they"re getting the real thing. Whether providing a relevant download link, deep linking, sharing screenshots, release notes, or reviews, .app is the place to share your app with the world.
Apps make the mobile world go "round, and now they have their own more secure home on the web: the App-Domain, the most relevant domain extension for mobile apps.
You can use your App-Domain to showcase a unique and trustworthy destination, as a relevant download link, for deep linking, or for sharing screenshots, release notes, and reviews. Get your App-Domain now to start sharing your app with the world.
Here are the start dates for each launch phase of the App-Domains:
March 29th: Sunrise
May 1st: Early Access Period
The "Early Access Period" works like a "dutch auction". Each day you pay less for the access to the registration environment. Please contact us by secura@domainregistry.de to get more information about the Early Access Period.
May 8th: General Availability
The countdown for the Sunrise Period of App-Domains has already begun. The Sunrise Period of App-Domains has started on March 29, 2018. During this period, only companies that have registered their trademark with the Trademark Clearinghouse will be able to register. It is still time to register the trademark with the Trademark Clearing House and subsequently register preferred App domains.
But even for those without brands, it is time to actg. Many ICANN registrars, such as Secura GmbH, accept pre-orders for App-Domains. The principle of greyhound racing also applies at the level of registrars: "First comes, first serves".
Key points about the TLD:
The App-Domain is an open TLD with a focus on improved security. The entire .app TLD has been added to the HSTS preload list, which means registrants will have to provision and set up SSL certificates in order for their content to be loaded in modern browsers
The App-Domain is a secure namespace, meaning that HTTPS is required for all .app websites. You can buy your App-Domain now, but in order for it to work properly in browsers you must first configure HTTPS serving.
The relationship between a better ranking in search engines and new top-level domains has already been proven in a study of Searchmetrics for .berlin domains. Websites with .berlin domains often rank better with regional searches in Google than sites with .de domains and .com domains. The result of the Search Metric study can be summarised as follows:
"In 42% of searches, .berlin domains rank better locally."
Another study by Total Websites in Houston shows that the results of the Searchmetrics study are in principle applicable to all new top-level domains, including the new App-Domains. Total Websites notes that Google sees the domain extensions of new top-level domains as an important criterion for the evaluation of a domain and, therefore, concludes that:
"It's clear that the new top-level domains improve the ranking in search engines."
Marc Mueller
http://www.domainregistry.de/app-domain.html (English)
http://www.domainregistry.de/app-domains.html (German
Abdruck und Veroeffentlichung honorarfrei! Der Text
kann veraendert werden. Weitere gemeinfreie Fotos können angefordert werden.
Secura GmbH ist ein von ICANN akkreditierter Registrar für Top Level Domains. Secura kann generische Domains registrieren, also z.B..com, .net etc. und darüber hinaus fast alle aktiven Länder-Domains registrieren.
2018 zählte die Secura GmbH bei dem Industriepreis zu den besten. Secura gewann 2016 den Ai Intellectual Property Award "als Best International Domain Registration Firm – Germany". Beim "Innovationspreis-IT der Initiative Mittelstand 2016" wurde Secura als Innovator qualifiziert und wurde beim "Innovationspreis-IT der Initiative Mittelstand 2016" im Bereich e-commerce auch als einer der Besten ausgezeichnet. Beim Innovationspreis-IT der Initiative Mittelstand 2012 und beim Industriepreis 2012 landete Secura GmbH unter den Besten. Beim HOSTING & SERVICE PROVIDER AWARD 2012 verfehlte Secura nur knapp die Gewinner-Nominierung.
Seit 2013 ist Secura auch bei den Neuen Top Level Domains sehr aktiv. Secura meldet Marken für die Sunrise Period als Official Agent des Trade Mark Clearinghouse an.
Kontakt: Secura@domainregistry.de
http://www.domainregistry.de
ICANN-Registrar Secura GmbH
Hans Peter Oswald
Frohnhofweg 18
50858 Köln
Germany
Phone: +49 221 2571213
Fax: +49 221 9252272
secura@web.de
http://www.domainregistry.de
http://www.com-domains.com
Kontakt
Secura GmbH
Hans-Peter Oswald
Frohnhofweg 18
50858 Köln
+49 221 2571213
secura@domainregistry.de
http://www.domainregistry.de